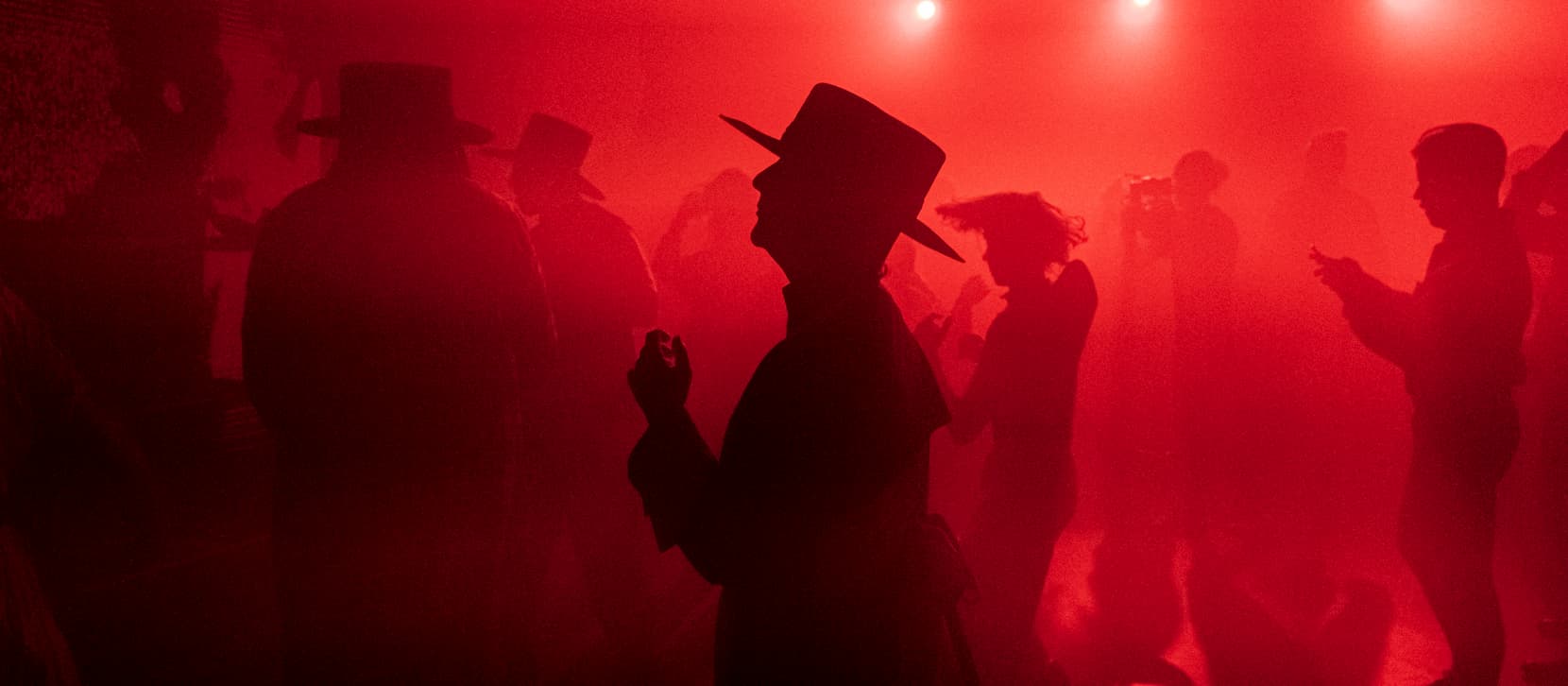 Techno music, film, theatre and visual arts – it all comes together in Respublika to form a world unto itself. The audience is invited into an alternative, utopian world. Here, everyone is free to come and go, to eat, drink and take part in a six-hour trip. 
What might a fairer society look like? Can we learn to live together in a more environmentally conscious and peaceful way, realising that the concept of freedom can be linked not only to individual advancement, but social progress too?  
With these questions in mind, members of the multilingual ensemble around director, video artist and raver Łukasz Twarkowski have abandoned everyday concerns. As an experiment, they retreated into the forests of Lithuania to live as a micro community and grapple with existential questions, but also with their own despair and desires. Twarkowski followed this process with his camera. Together with author Joanna Bednarczyk, visual artist Fabien Lédé, composer Bogumil Misala, DJ Spectribe, choreographer Pawel Sakowicz and the performers, he created a six-hour mockumentary for the stage that sweeps away the audience and encourages it to reflect on new ways of living together. 
The DJ regularly takes over, and actors and the audience meet on the dance floor. Once the performance is over, the dance party goes on... 
This performance lasts a total of six hours. However the visitors are welcome to come in later, or stay for a shorter period of time.
Please note! This performance uses strobe lighting and loud sound.
Drinks & bites will be available during Respublika.
Afterparty at RadioRadio
After Respublika ends, stay in the flow, and head to the club night at RadioRadio on the Westergas site (at a reduced price). more info
dates
Thu June 22 7:00 PM
Fri June 23 7:00 PM
Prices
default

€ 35

HF Young

€ 20

CJP/student/scholar

€ 12

series ticket

€ 31,50
language & duration
English, Lithuanian, Russian surtitles: English, Dutch

6 hours (met 1 pauze)
exist, we will always love and dance – even in the very worst of times.
© Andrej Vasilenko

© Andrej Vasilenko

© Andrej Vasilenko

© Andrej Vasilenko

© Andrej Vasilenko

© Andrej Vasilenko

© Andrej Vasilenko

Lukasz Twarkowski, filmmaker, theatremaker and visual artist

© Kris Ćwik
credits
direction
Łukasz Twarkowski
production
Vidas Bizunevičius, Lithuania National Drama Theatre
text
Joanna Bednarczyk
dramaturgy
Joanna Bednarczyk
set
Fabien Lédé
video design
Karol Rakowski, Adomas Gustainis
choreography
Paweł Sakowicz
composition
Bogumił Misala
costume design
Svenja Gassen
lighting design
Julius Kuršys, Dainius Urbonis
stage technicians
Karolis Juknys
direction assistance
Eglė Švedkauskaitė
assistance dramaturgy
Simona Jurkuvėnaitė
assistance set design
Rokas Valiauga
advice cinematography
Simonas Glinskis
sound design
Karolis Drėma, Adomas Koreniukas
light operator
Edvardas Osinskis, Dainius Urbonis Adomas Gustainis
cinematography
Šarūnas Liudas Prišmontas, Naglis Kristijonas Zakaras, Ričard Žigis
editing
Vytenis Kriščiūnas
production assistant
Lukrecija Gužauskaitė
translation
Vyturys Jarutis
coproduction
Münchner Kammerspiele
with support by
Ministry of Culture of Republic of Lithuania, Adam Mickiewicz Institute
This performance is made possible by