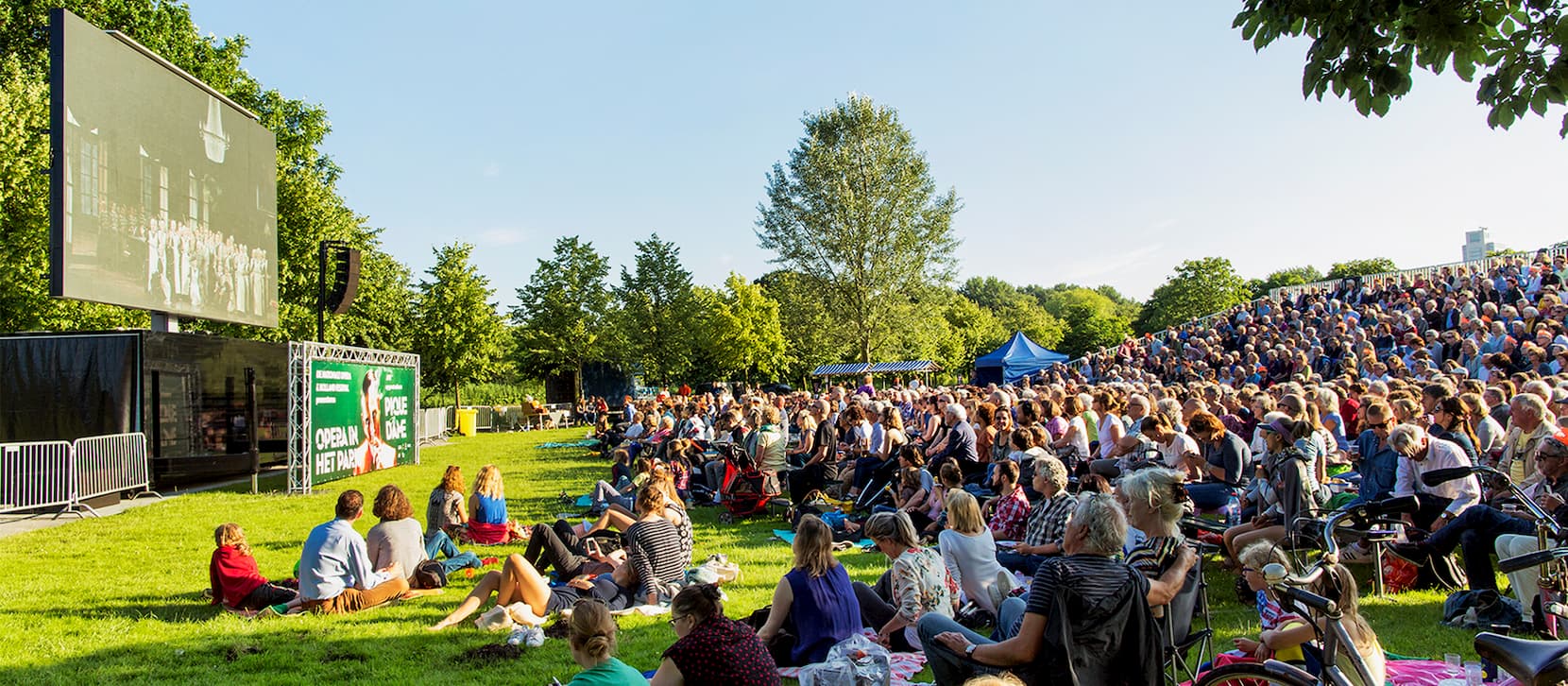 A special edition with the most wonderful operas outside on a large screen
Every year, an opera from the festival programme is also shown on a large screen outside in the park. To celebrate the Holland Festival's 75th anniversary, a second opera selected by the audience will be shown during this special edition.
This edition, the yearly, freely accessible Opera in the park not only consists of a large-screen broadcasting of Der Freischütz, shown simultaneously with the performance at the Dutch National Opera & Ballet on June 25. We are also looking back on our history and asked the audience which opera in the park it would like to see once more. The public chose, and by a narrow margin the choice fell on Falstaff by Giuseppe Verdi.
Falstaff - Giuseppe Verdi, Robert Carsen, Royal Concertgebouw Orchestra, Chorus of Dutch National Opera (2014)
Verdi's comic masterpiece tells the story of the corrupt old lech who once more goes out a courting.

Bring your picnic basket to enjoy a wonderful show in the beautiful Frankendael park.

dates
Fri June 24 7:30 PM
language & duration
Italian surtitles: Dutch

2 hours 30 minutes (met 1 pauze)
Falstaff was Verdi's last opera as well as his first ever comedy. In collaboration with librettist Arrigo Boito the old master succeeded in giving Shakespeare's burlesque creation, the big and boastful knight from The Merry Wives of Windsor and Henry IV great human depth. The main character is the swindler Sir John Falstaff who plans to seduce two ladies and pocket the money of their wealthy husbands, but ends up losing out.
To convey this story, Verdi composed music which is alive with youthful freshness yet at the same time betrays extraordinary maturity and compositional mastery. The production that was staged in 2014 by the Dutch National Opera, was a great success at London's Covent Garden and at the Teatro alla Scala in Milan. Baritone Ambrogio Maestri stars in the lead role.
Opera in het Park

Opera in het Park