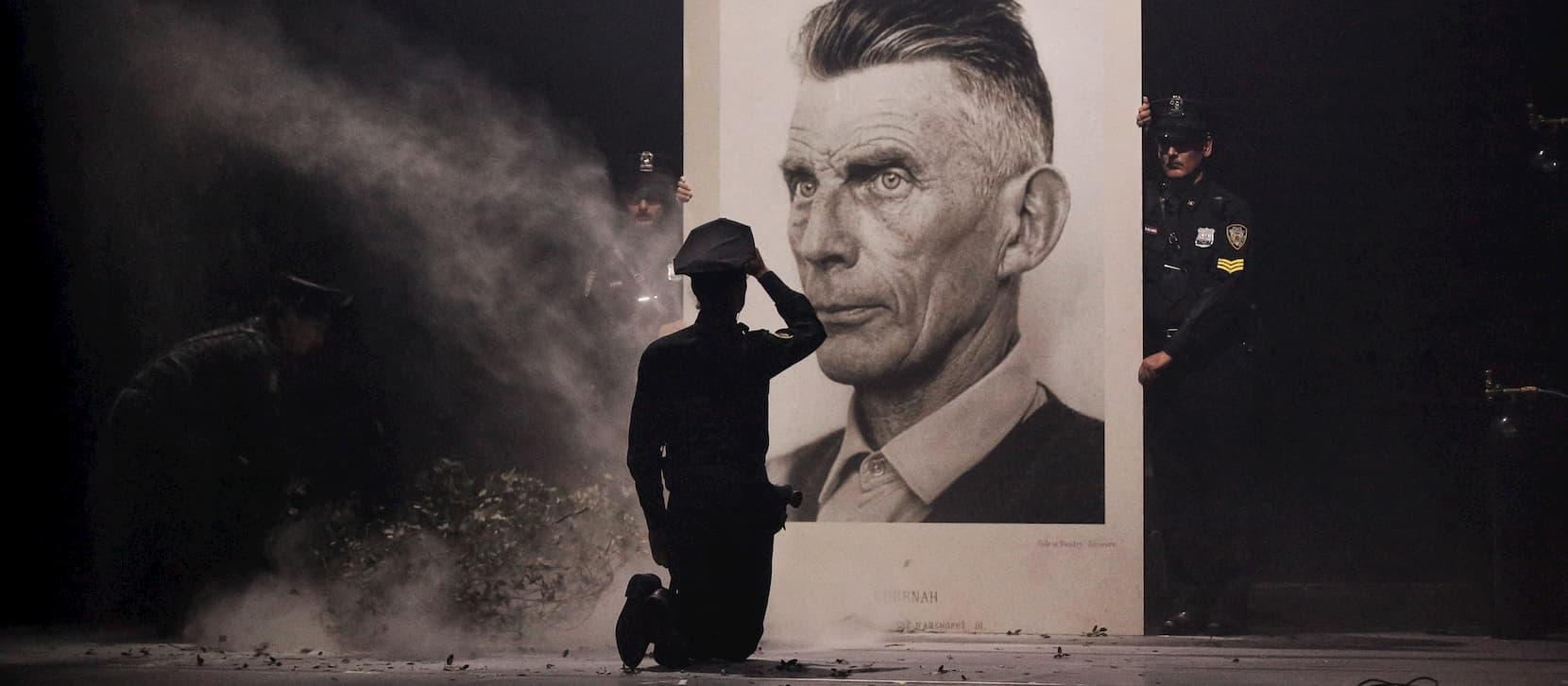 Where and why does violence arise? With its stunning images and sound, Romeo Castellucci's Bros shows how the most brutal violence may arise without any identifiable evil.
In this work from Castellucci, twenty-three non-professional actors play the leading role alongside three professional performers. They wear American police uniforms and receive instructions via an earpiece. All of them have signed a pact in which they agree to comply. Without knowing what will happen in advance, they perform actions not of their own choosing, without being able to foresee the consequences. This results in a hallucinatory series of shocking situations.
Castellucci is known for the indelible images in his work that stick with audiences. His great feel for beauty grates against the heavy social issues he addresses. The group of policemen in Bros are reminiscent of Buster Keaton's Cops but are nothing to laugh about. Castellucci raises questions about violence through a series of tableaux vivants. By mixing images from pop culture, Christian iconography and mass media, he presents a razor-sharp reflection on society in the form of a fascinating trip that is part silent film, slapstick comedy and current-day imagination.
Romeo Castellucci:
'The artist's task is to compose an aesthetically problematic image. The spectator's task is to "look", and only this verb calls upon spectators to make moral choices that question them personally.'
This performance contains scenes of violence and high sound volume.
For Bros the Holland Festival was looking for male actors. The application period has now ended.
dates
Sat June 24 8:30 PM
Sun June 25 2:30 PM
Prices
default

from € 37

CJP/student/scholar

€ 12

series ticket

from € 33,30
language & duration
Language no problem

1 hour 30 minutes (zonder pauze)
Romeo Castellucci, director

© Luca del Pia

© Jean-Michel Blasco

© Jean-Michel Blasco

© Jean-Michel Blasco

© Luca del Pia

© Luca del Pia

© Luca del Pia

© Luca del Pia

© Luca del Pia
credits
concept
Romeo Castellucci
direction
Romeo Castellucci
music
Scott Gibbons
cast
Valer Dellakeza, Luca Nava, Sergio Scarlatella, and with men from the street
collaboration in dramaturgy
Piersandra Di Matteo
assistant director
Silvano Voltolina, Filippo Ferraresi
banners written by
Claudia Castellucci
technical director
Eugenio Resta
stage technician
Andrei Benchea
light operator
Andrea Sanson
sound technician
Claudio Tortorici
costumes
Chiara Venturini
stage sculptures and automations
Plastikart studio
costume creation
Grazia Bagnaresi
translation Latin
Stefano Bartolini
production management
Benedetta Briglia
production and tour
Giulia Colla
promotion and distribution
Gilda Biasini
organisation
Caterina Soranzo
technical headquarters team
Carmen Castellucci, Francesca Di Serio, Gionni Gardini
administration
Michela Medri, Elisa Bruno, Simona Barducci
economic consult
Massimiliano Coli
production
Societas
coproduction
Kunstenfestivaldesarts, Printemps des Comédiens Montpellier, LAC Lugano Arte e Cultura, Maillon, Théâtre de Strasbourg – Scène européenne, Temporada Alta, Manège Maubeuge, scène nationale transfrontalière, Le Phénix, scène Nationale Valenciennes, MC93 — maison de la culture de Seine-Saint-Denis Bobigny, ERT Emilia Romagna Teatro Italy, Ruhrfestspiele Recklinghausen, Holland Festival, Triennale Milano Teatro, National Taichung Theater
This performance is made possible by