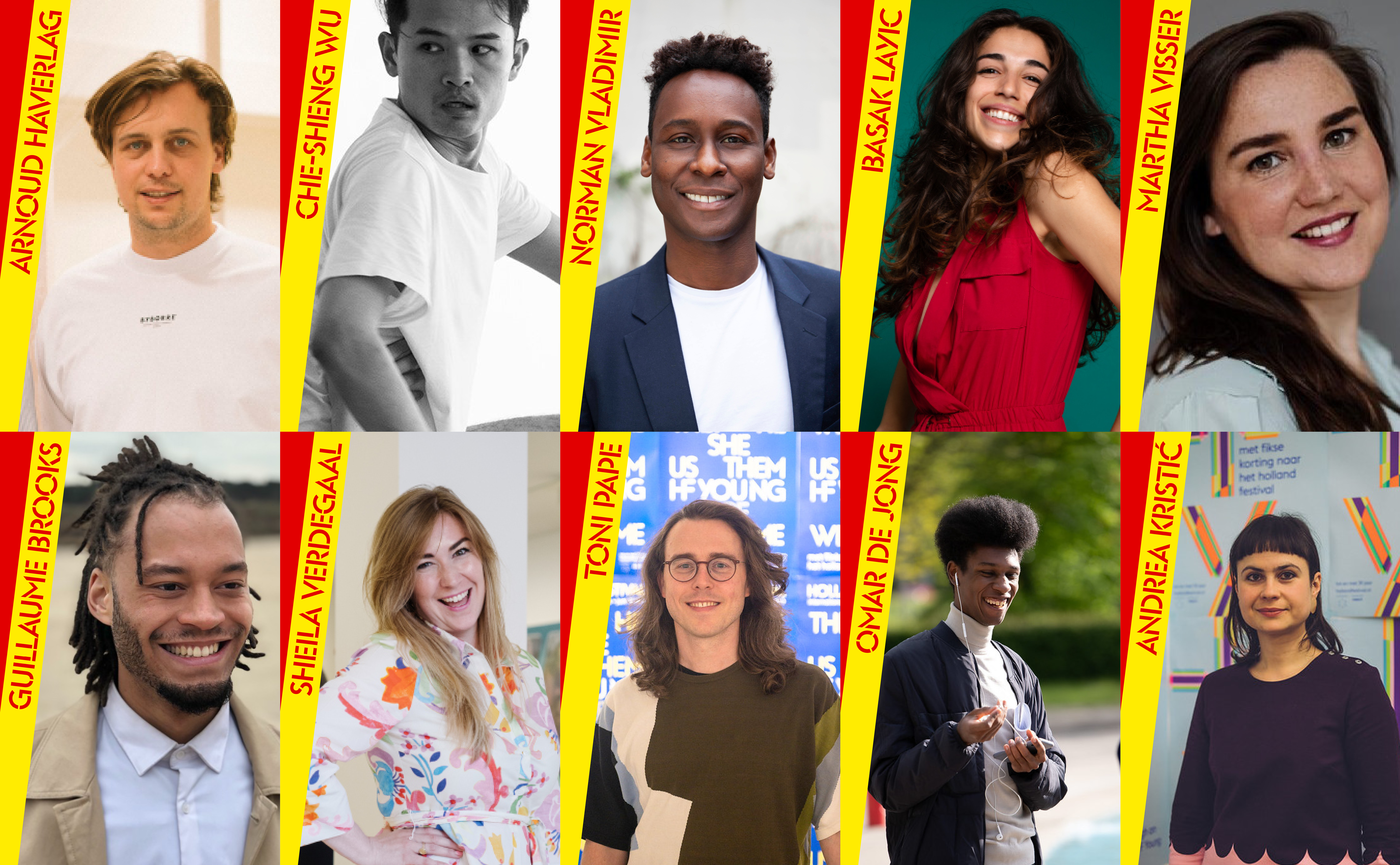 The HF Young programme is put together by the HF Young Circle: ten young professionals and students, all cultural adventurists between 24 and 40 years old.

They help you choose from Holland Festival's bountiful programme. It doesn't matter whether you are a cultural newbie, a curious hesitator, an enthusiast or a glutton. The HF Young Favourites contain something for everyone. The choice covers various art forms, makers and locations, and both big names and new stars are represented.

In addition to the Favourites, the Circle presents contextual activities, like the HF Young Night, the HF Young Book club and HF Young TALKS during the run-up to the festival and during the festival in June. The HF Young Circle offers you new perspectives and helps you meet people that you won't meet anywhere else.

This is the HF Young Circle:

Guillaume Brooks works as a sales executive and enjoys practicing qigong, wing chun and meditation in his free time. During his school years, Guillaume was a student at the IMC Weekend School, to which he is still associated as an alumnus. He joined the HF Young Circle in 2022. He is excited to get to know the HF Young Festival and contribute to it in his own way.

Che-Sheng Wu is a percussionist, a mime and an actor. The past years, he specialised in physical theatre performance. The unique combination of classic and modern percussion and mime gives him a framework within which he can freely create a mix of colourful productions. During his first visit to Holland Festival in 2021, Che-sheng let the HF Young Favourites fully guide him and he was instantly hooked! In the fall of 2021, he became part of the HF Young Circle.

Basak Layic is a scriptwriter, theatre writer and performer. After her theatre debut at the Amsterdam Fringe Festival with the Millennial Immigrant, she turned her focus towards bringing different public profiles into the theatres. She hopes to be able to continue this approach in the HF Young Circle. She believes that art can be like glue that binds different, even polarised, groups of people. Basak joined the HF Young Circle in the fall of 2021.

Basak on Holland Festival: "The wide-ranging programme that Holland Festival presents each year, continues to impress me. The different artists who I have seen there inspire me in my work and as a person. I would like to see Holland Festival reach an even larger audience, so that more people can experience that magical transformative feeling."

Norman Vladimir Smith (1981) is a musician, singer-songwriter and voice actor. At this moment, Norman is sharing his experiences as an expat and a millennial in Amsterdam through his podcast Comparing the Contrast, in which topics as imposter syndrome, isolation and gratitude are addressed.

His HF Highlight so far: 'It was a unique experience to see aus LICHT in 2019. That was unbelievable and very special!

Martha Visser (1988) works as a lawyer and concerns herself with issues surrounding art, the creative sector and intellectual property. Like a true millennial, she has filled her house with plants and loves to drink oat milk cappuccinos while reading the paper. Through HF Young, she hopes to help more young people discover the pretty, new and sometimes disconcerting shows of Holland Festival.

Martha's ideal Holland Festival: "For me that would be partly a feast of recognition and partly a journey outside of my comfort zone, a chance to see things that I wouldn't see otherwise."

Omar de Jong (1997) studies law at the University of Amsterdam. In addition to his studies, he is deeply interested in art. During the lockdown of 2020, Omar found his passion and talent for ceramics. You can admire his creations via his instagram account Zero.Ceramics. Omar has been part of the HF Young Circle since 2018; with his fresh outlook, he draws attention to his favourite shows.

His HF Highlight so far: HF Young Kick Off in Galerie Ron Mandos. "It was the HF Young Kick Off for Holland Festival 2020. In cooperation with Galerie Ron Mandos, we had organised a fantastic evening around the HF Young Favourites. In the short presentations, we as Circle members were given the chance to directly share the admiration we felt for our choices. Finally, there was a cocktail evening. Having cocktails in Galerie Ron Mandos after closing time was an unforgettable experience."

Toni Pape (1983) is a researcher and teacher at the department of Media studies at the University of Amsterdam. At this moment Toni is working on a book that researches disappearance practices in the media, especially in video games.
Part of this research has been published here. If you run into Toni at Holland Festival, then start a conversation by sharing your weirdest thought with him.

His HF Highlight so far: "I often think about The Head & The Load by William Kentridge, Phillip Miller, Thuthuka Sibisi and Gregory Maqoma (Holland Festival 2019). It reminds me of the beautiful exhibit 'If We Ever Get to Heaven', that Kentridge had in the Eye Film museum."

Andrea Kristić (1986) graduated in fashion design at Artez in Arnhem, in 2009. Since 2021, she has been a fashion designer at Amsterdam Fashion Instituut. As a visitor of the HF Young selections, Andrea came in touch with Holland Festival and expressed her wish to help create the programme. Since 2019, Andrea is part of the HF Young Circle. Andrea is fascinated by the intimacy and directness of the (feminist) body-art movement of the seventies and focuses a lot on the meaning of appropriation as an art form.

Andrea's ideal Holland Festival: "The ideal festival keeps surprising me with a programme that addresses the contemporary zeitgeist and makes us think about where we are, who we are and where we should go."

Sheila Verdegaal (1989) works as a gallery manager at art Galerie Ron Mandos in Amsterdam. In her spare time, Sheila enjoys visiting galleries and museums and gets on a train to Paris with friends, whenever she can. Sheila loves video art and is a big fan of the Belgian multidisciplinary artist Hans Op de Beeck. In 2020, Sheila joined the HF Young Circle.

Her HF Highlight so far: "The HF Young Kick Off in 2020. During this night, I enjoyed, in a quick run-through, what the festival had to offer young, enthusiastic art and culture lovers. I gained lots of inspiration and energy from the presented shows."

Arnoud Haverlag (1984) is an entrepreneur and co-founder of the BYBORRE textile innovation studio, among other things. During his economics studies, he started his own Internet company: Marvia. Since then, he has been involved in the creation of several tech companies with a focus on the positive impact on society and the environment, such as Backspace (a start-up for such "impact" companies), Soverin (honest email) and currently BYBORRE. With a passion for combining positive impact and creativity, Arnoud hopes to support the HF Circle to the utmost.

Arnoud on Holland Festival: "An amazing art platform. As a member of the HF Young Circle, I hope to contribute to bring a new generation in touch with the performing arts."